Join us in Greensboro, North Carolina for the 2018 VM Workshop! We will be back at the home of the Aggies.
North Carolina Agricultural & Technical State University.
The team will be hard at work preparing for the next VM Workshop. Check back often for news and information related to VM Workshop 2018!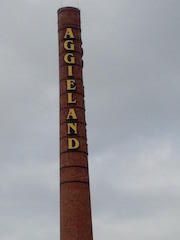 ---
The VM Workshop
About the VM Workshop: What it was yesterday and what it is today.
The VM Workshop is a grassroots non-profit organization made up of customers, ISVs, and business partners with an interest in the use and growth of the z/VM platform and Linux on IBM Z.
Why Come to the VM Workshop?
Here are about half a dozen great reasons to come to VM Workshop (some of this the following text was shamelessly ripped off from the 1998 Marist VM Workshop site.)...
Some of the Best VM, Linux, and z/VSE Sessions You'll See Anywhere!

Many talks seen at the more expensive conferences are also presented at the VM Workshop, in a smaller, more intimate setting. Same talks, same speakers, and a chance to throw a frisbee with the speaker afterwards. Because the VM Workshop is less formal, some of the talks take on the atmosphere of discussion groups or "this is the neat solution I came up with for this problem" sessions. People get to talk about the topics that really interest them.

Some of the Smallest Expense Reports You'll See!
Your meals are all included, from the opening session through the closing.
A Really Cool Polo Shirt Suitable for all appropriate occasions, according to the current mode... 8-)

An inexpensive, modest dorm room just like you had in college: a bed and bathroom. No alarm clock, complimentary soap, shampoo, toothpaste, shower cap, or mint your pillow each night, etc.

The Best Audience You'll Ever Have
Does your boss pressure you to give presentations, but the idea petrifies you? Well, the Workshop is a great place to get over it. The audiences are small, "Linux and z/VM Community"-friendly and very patient. You'll have nothing to fear when speaking at a VM Workshop.
Personal Contact with IBM Developers and other Vendors
One of the best aspects of the VM Workshop is the close contact with people from IBM and other vendors who actually work on your products. Its a great opportunity to ask questions and give feedback directly to the people who need to hear it. You may find that they are actually pretty "good people" too.
VM Workshops are traditionally held on college campuses to hold down the cost. Therefore, its your opportunity to see such exotic places as Manhattan, Kansas; East Lansing, Michigan; Columbus, Ohio; Lexington, Kentucky; Montreal, Canada; Indianapolis, Indiana; Greensboro, NC; and even fabulous Poughkeepsie, NY!
While VM Workshop people are serious about VM and serious about getting the most for their conference travel dollar, they also know how to relax and have fun. The VM Workshop has been called a "summer camp for VM programmers". So take off that tie, put on some sandals, and concentrate on just two things: VM, and having a good time while making new friends.
Terrific conversations, both business and personal, in the dorm 'commons' areas each night.
At the VM Workshop, everyone is encouraged to speak. The VM community has always relied upon the contributions of many different people. The Workshop philosophy is that everyone has something interesting to say. Therefore, no presentation is too short or too trivial. Sometimes you find great talks in modest little time slots, little tips and how-tos you can put to work as soon as you get back to the office.
VM Workshop, Inc. is registered in Delaware as a non-profit corporation. As of March 2014 work is underway to file for a federal IRS 501(c)(3) non-profit status, but that is a tedious effort (the IRS reports an average of more than one year from filling to certification).
Attachments:


2012-09-04 VM WORKSHOP INC - Certificate of Incorporation - Delaware Non-profit


VM Workshop W-9


VM Workshop 501 (c)(3)